Why stand?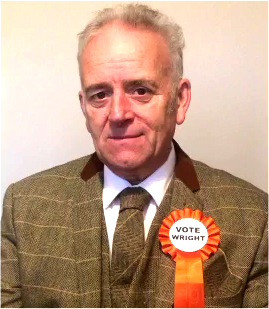 There appears to be a general frustration with our elected representatives at the moment and local issues are getting 'crowded out' with national issues.  I would like to put Tamworth first and uppermost in importance and believe now is probably the best time to offer a truly independent choice of representative.
Issues at a national level
It seems the most important parliamentary issue is Brexit. It is the most talked about issue for decades, it has divided friends and split the country like no other issue. There is also a general dissatisfaction with the current house of commons with respect to Brexit - MPs squabbling amongst themselves - shameful. Our parliament is the joke of Europe who by and large do not understand our Brexit issues or why the problem is so awkward. Personally I would have wished to stay in Europe but the choice is democratically simple, the referendum was clear and the country should now be out of Europe and we have to throw our weight and enthusiasm behind the process.
This election is almost certain to be fought with BREXIT as the prime electoral factor. As a point of interest I can clearly remember the massive hoardings of the 70s on which photos of all three main party leaders were featured in support of joining Europe - what on earth happened?
There are many other issues that are important to the electorate to mention but a few:
Health trust funding to be more accountable. We are told there are millions being poured into the NHS yet they are short of beds and vital operations are delayed.

More must be done for young couples renting who stand no chance of getting on the house buying ladder.

HS2 is creating a lot of upheaval and cost. Should its development be stopped. What difference does it really make if a traveller gets to London 20 minutes earlier? How many can really afford to travel by rail anyway? Who on earth is really benefiting from this project? Having said all that, it is creating a lot of badly needed jobs and this benefit has to be traded off against its cost.

Care for the Elderly. People having their life savings and property taken away by the local authority to pay for their care - woeful. An issue that sooner or later will affect you.

Crime - where do we start on this? The Bobbies are doing the best they can but sometimes it is not enough. Is more funding the answer?
Issues on a local level
Tamworth is a great town with much of its history still standing. There are many talented and committed people working for the good of the town, however, shops are closing and premises lie empty, let's examine how this situation can be reversed.  Can we make more of the town's history? Can we bring more tourists to the town? Is the car-parking adequate?  What are the negative aspects? Is our infrastructure adequate (road network, transport, services etc.)? So many questions.
There are many charitable and help organisations in the town.  If elected I promise to make contact with all of them to see how I can help.
I'm under no illusion about the potential workload. However I am keen to learn and will dedicate my time to Tamworth and its constituents to the best of my ability. I may be only one voice but one voice can make a difference.
Do I have all of the answers? Of course not. Will I look for them? Of course.
About Me
Having no affiliation to a political group, being an independent candidate is the only way to try and make it as an MP in the UK. There are many issues in the UK that may be considered unfair and unjust that need pursuing and addressing. If elected I am aware that as one voice such issues are tough to address but hopefully I will be able to put my voice along with other like-minded individuals to get things right.
Click for more detail about John Barry Wright
PUT TAMWORTH FIRST
VOTE RIGHT
VOTE JOHN BARRY WRIGHT
 For more information or comments e-mail me direct at This email address is being protected from spambots. You need JavaScript enabled to view it.
Promoted by Virginia Wright on behalf of John Barry Wright both at 27 Croft Close Elford Tamworth B79 9BU
This campaign is self-funded, I have no election machine to call on so thank you for your time.
My personal Facebook presence here
Hits: 4572